The Reach & Wash Method
Reach & Wash System consists of a 5 Stage water treatment process to deliver pure water to the windows using long specialised poles. Where previously ladders, hydraulic platforms and portable scaffolds had to be used, using the Reach and Wash System, it is now possible to clean most windows up to a height of 60 feet.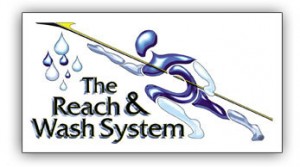 Advantages:
It also has advantages when it comes to Health and Safety concerns involving the use of ladders because this system can be safely operated by a single operator from the ground.
Traditional Methods
Whilst technology in window cleaning is always advancing, we also recognise the benefits of continuing to use the traditional window cleaning method, therefore we use a number of ladders designed specifically for window cleaning.
Health & Safety
We are constantly monitoring, reviewing and improving our procedures to reduce any possible hazards that may arise in the workplace. As you would expect from a professional service Health & Safety always comes top of our priority list.
All staff are fully uniformed for identification purposes, are highly skilled in different aspects of window cleaning and are trained to work efficiently and effectively.